Altair Service Manager service software features
Altair Service Manager is the power of a CMMS at the service of your customer / service issues.
With our after-sales software, manage your customer contacts as well as their installed technical park. Record and track calls and service requests.
Plan periodic maintenance and condition monitoring. Offer your customers precise reporting in real time. Finally, Generate and track quotes, invoices and reminders.
Multi-société
Multi-sites
Équipements / Emplacements
Systèmes d'arborescence à niveaux illimités
Multi-arborescence
Modèles techniques
Bibliothèque de documents
Réglementations
Retrouvez tous vos emplacements et équipements organisés dans la GMAO grâce à une arborescence permettant de se trouver à tout instant à quelques clics de l'information recherchée.
Maintenance systématique
Maintenance conditionnelle
Fiches de maintenance préventive
Points de mesures
Rondes d'équipements
Gammes d'opérations
Gestion des grands arrêts
Planning des charges
Avec la GMAO Full Web Altair Enterprise, la maintenance préventive est gérée de façon naturelle et efficace.
Demande d'intervention
Bons de Travaux
Compte-rendu travaux
Pointage personnel
Sorties de pièces de rechange
Demande d'achat automatique
Planification des bons de travaux
Gestion du potentiel main d'oeuvre
La GMAO, par une rapidité et une accessibilité record, permet de gérer la maintenance curative en temps réel.
Pièces détachées
Multi-magasins
Multi-fournisseur
Demande d'achat
Demande de prix
Devis
Commande
Réception
Réapprovisionnement auto
Achats direct pièces & services
Contrats de sous-traitance
Facturation
Jamais à cours de pièce, toujours au fait des stocks : le module achats et stocks permet de gérer sereinement sa maintenance, sans se soucier des besoins matériels.
Dossiers Clients
Gestion des demande d'intervention
Gestion des interventions préventives
Suivi des interventions
Facturation
Contrats de maintenance
Planning et affectations
Géolocalisation
Les sous-traitants de maintenance et services SAV technique retrouvent en un seul produit la puissance de la GMAO transposée au mode de fonctionnement des prestataires devant gérer et suivre de nombreux clients disséminés.
Évènements HSE – QHSE
Audits
Compte-rendu d'Audits
Gestion des habilitations
Checklists
Compteur d'exposition aux risques (pénibilité)
Retour d'expérience (REX)
Réglementations (FDA, SEVESO, ISO 9000, 14000…)
Gestion Conformité Équipements
Bons de travaux de mise en conformité
Mesure de maîtrise des risques (MMR)
Les services HSE et de maintenance peuvent parler le même langage dans un même logiciel grâce à ce module à la fois complet et entièrement intégré à la GMAO.
Compte d'imputation
Définition des budgets
Suivi et analyse des dépenses
Suivides contrats de sous-traitance
Interface comptable avec ERP
Tableaux d'affichages KPI
Le budget de la maintenance est souvent surveillé de près. Avec la GMAO Altair Enterprise, vous avez une vue globale de vos dépenses et pouvez envoyer directement l'information à qui de droit, simplement.
Gérer les sites
Gérer les utilisateurs
Gérer les groupes
Importer/Exporter les données
Tâches planifiées
Flux RSS
Éditer des écrans
Éditer des onglets & tableaux
Gérer les tableaux de bord
Gérer les rapports
Personnaliser la GMAO
Altair Enterprise épouse l'organisation de votre société  via son interface d'administration complète et accessible.
Altair Service Manager is the power of a CMMS at the service of your customer / service issues.
The after-sales software was designed with a business approach, in order to allow you a global management of your service to optimize its output and its quality. With all the features expected from a CMMS, Altair Service Manager adapts perfectly to after-sales service issues and its specific needs.
Customer relationship management (commercial component) and maintenance management of the equipment monitored (technical component) are thus combined in a single software, ensuring maximum efficiency. Everything fits perfectly into your existing IT ecosystem via interfaces.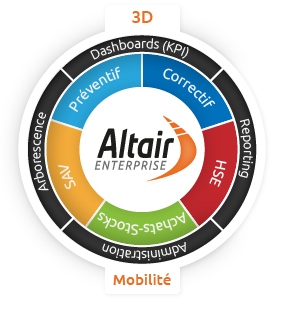 The maintenance trades are born from the needs of the industry to develop an effective management of the equipment fleet, to answer productivity, safety and quality issues.
After-sales services and maintenance providers have been created to provide additional expertise on specific equipment. Obeying maximum efficiency constraints, after-sales service must also master the economic and relational aspect with their customers.
The Altair Service Manager after-sales software presents itself as a unique solution, ensuring continuity between the business of customer relations and that of maintenance, helping technical after-sales services to have a fluid communication with their customer, coupled with better efficiency on the ground.
DSDSystem's expertise
Since 2003 DSDSystem has supported companies from all sectors of activity in their project to deploy. With more than 200 customer references and projects followed over more than ten years, the company has been able to put its expertise to the test of the simplest as well as the most complex projects.
DSDSystem is your partner of choice in your after-sales service software deployment project, as well as for the optimization of your systems, the training of your staff and long-term support.